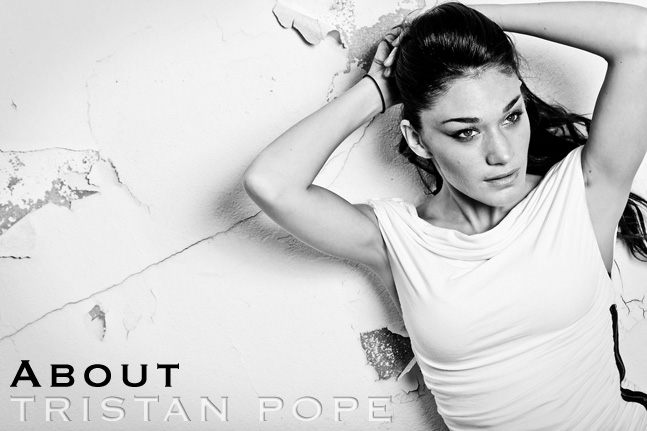 Tristan Pope is an Emmy-Award winning director and photographer in New York City. His recent festival-bound short films "Romance in NYC" and "Dancers of New York", have demonstrated his work as an innovative cinematographer/director.   Sought after as a speaker/presenter at Apple Stores as well as the Toronto International film festival, Pope is thrilled to be able to share his creative vision with an increasingly widespread audience.
Perhaps his creative cinematic fire erupted during his tenure at Blizzard Entertainment, when he was a substantial part of the team awarded an Emmy for the South park episode "Make Love, Not Warcraft" (his efforts included multiple trailers, cinematics, commercials, behind-the-scenes DVDS, and post-production).
While Tristan loves cinematography and directing, he is equally driven by photography.  Visit his website for multiple examples of seeing the breathless beauty of people, strength, dance — when put on film by a photographer whose every click screams passion.
When not working on the above Tristan can be found coaching actors in preparation for their next audition, college application, or current role. He also works with companies to help define their brand and connect with other businesses in the industry to ensure complete brand recognition. This makes Tristan an excellent addition to any team!
On a more personal note:
I believe in one thing with all of my heart: passion. If I do not have passion for what I do, I do not succeed. Just as importantly, I believe in happiness. This is what I strive for, first and foremost, in everything I do.
My intent with photography is to capture what stands out in my subjects as beauty. When I shoot my camera I expect everyone to see what I just saw, in my eye and in my mind's eye. Each picture should seize you with emotion, grip you with fervor. To combine motion, strength, glamour, and fashion into one picture is my goal.
I have always believed that beauty is internal: passion, character, and hard work. This all equates to natural beauty, something overlooked too much in a Photoshop-imbued world
My passion is to combine glamour and fashion with the strength and movement of dance in my work. I find the dance world to be invigorating; a refreshing way to push the human body to its limit, and in doing so, demonstrate the real life use, the story line, and the imaginative engagement of the perfect clothing line.
For me, the juxtaposition of the absolutely magical beauty of a ballerina's form and technique with style and fashion and trends produces a beautiful result that caters to a broader and potentially deeper audience.
As mass media begins to shift from skinny to strength, which I think is a wonderful shift — I want to be on the front lines combining elegance, artistry, grace and allure.  This is what I am about
Feel free to contact me.